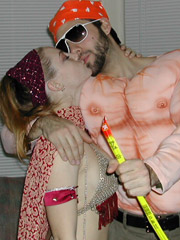 Jen and Jesse love Halloween...
It's our favorite holiday, our anniversary, and the source of so many fond memories and photos! This is why when we decided to get married (Jesse got tired of waiting for Jen to ask...) we knew we wanted to find a way to share our favorite holiday with our friends and family in our wedding celebration.
While we officially became Mr. and Mrs. Salucci on June 15th, 2008 during a small beachside ceremony with our immediate families...
Now it's time to party!

Join us for our celebration, a fun-filled evening of food and drink from some of our favorite LI restaurants, and dancing to music provided by a very special guest DJ!
Most importantly:
DON'T FORGET YOUR COSTUME! Seriously!
Wear anything you'd like...
just don't make Grandma sad...
Also, this is a KID FRIENDLY EVENT!
So bring them along in costume as well!